Handscomb defends hosts desperation as defeat looms for Australia
Australia may be sinking closer to just their third defeat at the SCG in 23 years but Peter Handscomb insists there is genuine desperation within the group to show the world they can forge a draw.
Ricky Ponting slammed the hosts attitude, citing Nathan Lyons reluctance to use one of his sides two remaining reviews when given out LBW, but Handscomb defended the home side insisting they had a lot to play for.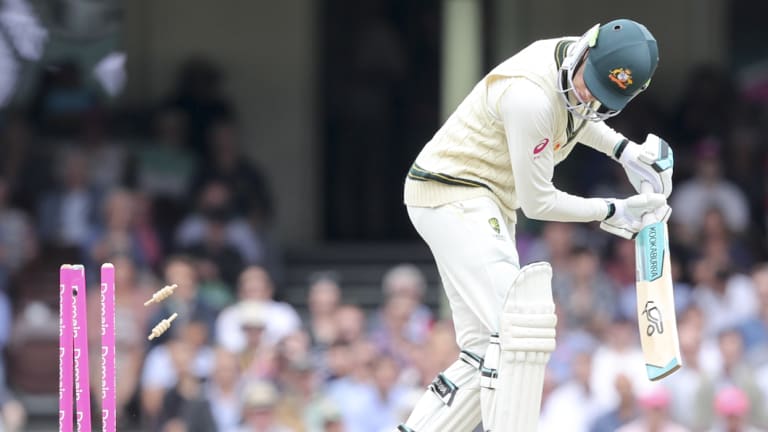 India are within 10 wickets of clinching a famous 3-1 series win as Australia were dismissed for 300, with Kuldeep Yadav claiming five wickets on debut. Australia finished 0-6 after being forced to follow on before bad light and rain, which had allowed just 25.2 overs on day four, ended play.
More clouds are forecast today but with minimal rain, meaning Australia will have to produce something special when they resume 316 runs from even forcing India to bat again.
"Weve obviously got a really good chance to shift some momentum back into our camp and not just for the one-dayers coming up but also theres the World Cup and the Ashes," said Handscomb, who made 37 before playing on to Jasprit Bumrah. "We know that as a batting group we can really take some confidence out of tomorrow if we can last this day and show the country and the world that were not far off clicking and being a really, really good team."
Advertisement
Not since 1988 against England has Australia been told to strap on the pads in consecutive innings at home. Its a that does not sit well within the group.
"Obviously it hurts mate," Handscomb said. "You never want to follow-on in any Test match for obvious reasons. Well be drawing this game tomorrow."
Before a 42-run last wicket stand between Mitchell Starc (28) and Josh Hazlewood (21), Seven pundit Ponting said No.10 Lyons decision not to review his dismissal gave a concerning insight. Replays suggested the ball may have been missing the stumps, leaving Ponting flabbergasted. That dismissal actually says a lot to me about the mindset of this Australian team … Theres no desperation there whatsoever, Ponting said. Why wouldnt they have had a look at that?"
Pressed on the decision after play last night, Handscomb quickly came to the defence of the pair out in the middle. "DRS is random with stuff like that," Handscomb said. "You ask Gazza [Lyon], he thinks [it hit him] on the full and on his big toe. Its not often anyone in the world thinks they are going to review that.
Sydneysiders regularly complain about rarely seeing a live Test at the SCG and the one-sided nature of recent contests only exacerbates that feeling. After what they have had to sit through across four days, they might be regretting taking those victories for granted.
Handscomb said a fighting knock from someone in the top six was a distinct possibility on a flat SCG pitch, even on day five.
"If someone can come out tomorrow and score a hundred … or even face 200 or 300 balls in a Test match-saving knock, that can also give us a lot of confidence going forward," Handscomb said.
There was a comical moment as the afternoon dawdled on when fans across the ground turned their phone lights on in a bid to increase visibility at the ground.
Earlier in the day, Marcus Harris revealed how Australian batting Graeme Hick had peppered him with short balls all week in order to get his confidence back with the bouncer, having been hit a couple of times throughout the series.
However, Harris was struck on the glove, right in front of his helmet, off the bowling of that man again: Bumrah.
One ball later, umpires called an early tea due to poor light and its safe to say Harris and Usman Khawaja would not have minded getting back in the change rooms.
Such little cricket ensured questions remained unanswered. Does Harris have what it takes to make a hundred? Why isnt Shaun Marsh going on with his starts? Is Mitchell Starc actually bowling as badly as people feel?
Those conundrums, however, might not even be solved on a fifth day that will see India lift their first Border-Gavaskar Trophy in Australia regardless of how much resistance the home side offer.
Tom Decent is a journalist with Fairfax Media.
Most Viewed in Sport