Climate protesters threaten Heathrow 'shutdown' after 460 arrests
By Aubrey Allegretti, news reporter
Climate change protesters plan to "shut down" Heathrow Airport tomorrow as hundreds of thousands of passengers prepare to jet off over the Easter weekend.
The group Extinction Rebellion, which has held four days of "non-violent civil disobedience" action across London, revealed its next move was to target the aviation industry.
It comes as more than 460 people have been arrested and three activists appeared in court for allegedly obstructing a train.
Home Secretary Sajid Javid has urged police to "use the full force of the law" to evict protesters who he accused of "causing misery" for commuters.
Meanwhile, London Mayor Sadiq Khan has attacked the government for funding cuts that lead to police numbers falling.
Advertisement
Extinction Rebellion announced it planned to abandon "swarming" in central London – intermittently blocking key roads – to "raise the bar" at Heathrow.
"There is a deep remorse for those whose holiday and family plans will be disrupted tomorrow," the group said in a statement.
More from Climate Change
"It is not our intention to cause further separation.
"However, the aviation industry needs to be targeted and we are all aware of the deep, structural change that needs to come."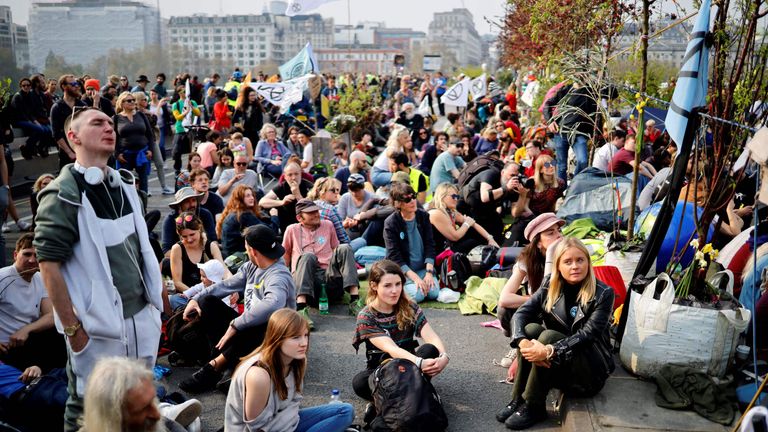 It has vowed continuous action until its three demands are met: the government "telling the truth" about how "deadly our situation is", cut carbon emissions to net zero by 2025 and create a "citizens' assembly" to oversee the changes.
Heathrow Airport is already "working with the authorities" to address any protests which could "disrupt the airport".
A spokesperson said: "While we respect the right to peaceful protest and agree with the need to act on climate change, we don't agree that passengers should have their well-earned Easter break holiday plans with family and friends disrupted.
"Passengers should contact their airlines for up-to-date information on their journeys."
Around 247,000 people are estimated to be flying in or out of the airport on Friday.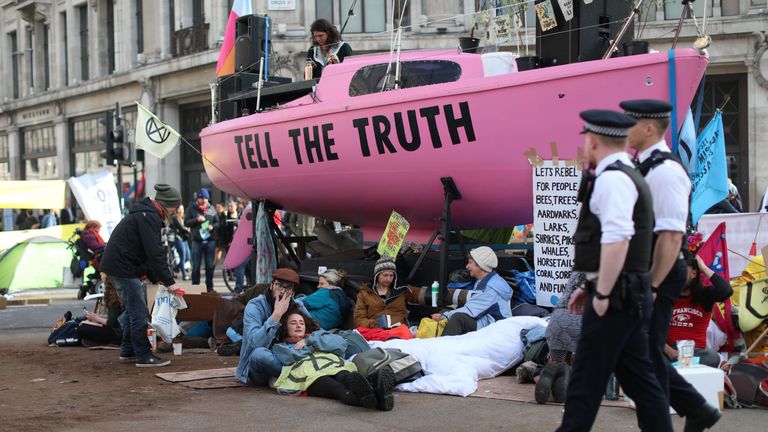 The home secretary has insisted everyone has a right to protest peacefully – but condemned activists who were "stepping outside the boundaries of the law".
Speaking after a briefing with the head of the Metropolitan Police, he said: "We are a proud democracy – and no one should be allowed to break the law without consequence."
He has been warned by Mr Khan that the government could be asked to foot the bill for the cost of policing this week's protests.
Police chiefs earlier rapped their own officers for dancing with some of the protesters.