UK News
Armed police make 2 arrests as alleged jihadist terror plot is foiled
Counter-terrorism officers believe they have thwarted an attack on the UK after armed police arrested two men on Tuesday. The first suspect was arrested in London, and the second in Birmingham.
The pair, aged 21 and 20, were arrested on suspicion of being involved in the commission, preparation and instigation of terrorism contrary to section 40 of the Terrorism Act 2000.
Read more
According to counter-terrorism officials, the UK has now managed to prevent nine attacks since March 2017, and up to 21 since 2013. Four, however, went undetected and resulted in deadly atrocities at Westminster, the Manchester Arena, London Bridge and Borough Market, and Finsbury Park.
The latest UK terrorist attack took place at Parsons Green Tube station. The explosion on the District Line Underground in mid-September, however, did not manage to cause fatalities as the bomb failed to detonate properly.
The Metropolitan police said: "The officers arrested a 20-year-old man in north London and a 21-year-old man in south-east Birmingham at approximately 14.50hrs and 16.30hrs respectively on Tuesday 28 November.
"Both are being detained in custody under the Terrorism Act at a southeast London police station. Searches at addresses in southeast Birmingham and north London are ongoing."
The alleged plot was supposedly inspired by Islamic State (formerly ISIS/ISIL) propaganda, and is considered to be among the more serious seen this year.
Read more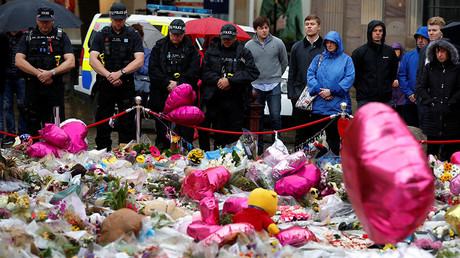 The arrests were a result of a decision by counter-terrorism police and the national security agency MI5.
It comes as Britain is due to announce details of its new "Contest 3.0" strategy early next year, aimed at tackling the growing terrorist threat.
Security minister Ben Wallace said that while ISIS posed the greatest threat to the UK, there should be caution over al-Qaeda and neo-Nazi group National Action as well.
"Some of these threats are here to stay for a considerable time," he told the Westminster Counter-Terrorism Conference last week.
"We are going to launch the government's new counter-terrorism strategy in the new year, building on what we've learned … And keep one step ahead of the terrorists."
Wallace said there were nearly 600 investigative leads being pursued, which cover about 3,000 people and another 20,000 who were of concern at some stage.
"It is not a spike in the threat, but a shift that we are now facing, and that is something we all have to deal with," Wallace added, according to the Independent.
[contf]
[contfnew]

[contfnewc]
[contfnewc]Original Article