Sports
George Groves vs Chris Eubank Jr: Metro.co.uk Big Fight Preview
The super-fight all British boxing fans wanted is almost upon us.
Chris Eubank Jr versus George Groves was the pairing all the casuals and purists were hoping for when the World Boxing Super Series first confirmed the super-middleweight pair in their tournament in January.
WBSS has been the surprise boxing package of the last 12 months and there is an expectation that after barnburners in the cruiserweight semi-finals, Eubank Jr vs Groves will follow suit.
The winner moves on to the final and with £20million prize money and bragging rights at stake, it's all to fight for on Saturday night in Manchester.
FORM…
Groves' last five fights
WIN vs Jamie Cox – KO (R4)
WIN vs Fedor Chudinov – TKO (R6)
WIN vs Eduard Gutknecht – UD
WIN vs Martin Murray – UD
WIN vs David Brophy – KO (R4)
Eubank Jr's last five fights
WIN vs Avni Yildirim – KO (R3)
WIN vs Arthur Abraham – UD
WIN vs Renold Quinlan – TKO (R10)
WIN vs Tom Doran – TKO (R4)
WIN vs Nick Blackwell – TKO (R10)
INGREDIENTS FOR A CRACKER…
Groves vs Eubank Jr has all the ingredients for a thrilling encounter. Eubank Jr has the mega hype behind him while Groves has that quiet veteran confidence about him – it matters little there is only a year and three fights between them.
Eubank Jr has all the bravado associated with a prospect, but he is also in the best form of his life and coming off a devastating knockout. Eubank's speed and signature uppercut will look to batter Groves, while his opponent will attempt to slice through the fantasy of Eubank Jr's reputation with some good old fashioned skill.
There is also the matter of those sparring sessions back when the pair were 'novices', by their own admission. Shared history also makes for interesting rivalries and the two certainly remember the 'hundreds' of encounters differently. Eubank Jr is coming up against a fighter who use to pay him to spar him, there's something tasty in that for both champions.
Hanging heavy around Groves' neck is his almost moments, the two losses to Froch, the heartache against Badou Jack. Despite finally winning a world title last year, the Brit so desperately wants his legacy to move beyond those losses.
Eubank Jr too is searching to escape the nearly-man status. It hasn't quite happened for him yet and fans will find it hard to scoff at a WBA (Super) strap around his waist, like they do with the IBO belt. Fans have bought into the contest, tickets were devoured in less than half an hour when they went on sale in November.
We're not quite sure if Eubank Jr is the real deal, while we already know Groves isn't quite the cream of the crop. Both men will have the chance to emphatically stake their claim between the ropes on Saturday in front of 20,000 people. That makes for a potentially cracking affair.
STRENGTHS AND WEAKNESSES…
Groves enters the ring as the established fighter and the veteran, despite the fact Eubank Jr is just a year younger and has fought 27 bouts to Groves' 30. Groves is the old head, but his shoulders match the youth of Eubank Jr's.
Eubank Jr is certainly at a disadvantage when it comes to his record, but the 28-year-old is also in the best stretch form of his career. Groves will tell you he too is on fire, but many suspect the Hammersmith local left his best rounds in the ring with Froch and Jack.
It seems Groves has been around for an age, while many still see Eubank Jr as the new, loud-mouthed, kid on the block. Their record certainly suggests a wide gap in experience. Groves made his pro debut ten years ago and has gone toe-to-toe with world champions James DeGale, Froch (x2) and Jack.
Eubank Jr's toughest opponent, by some margin, was a 25-year-old Billy Joe Saunders. Groves has been in four world title fights, and will claim to have won at least three of those.
The 29-year-old will feel his experience in the big moments will give him a vast advantage over Eubank Jr, who froze in the last bout that was billed as the biggest fight of his career.
On top of Groves' own personal experience, he has a championship winning coach behind him in Shane McGuigan. The role of a trainer is often overlooked, but in a case where one fighter has no coach whatsoever, it cannot be underestimated how key McGuigan's influence will be.
Eubank Jr is that strange mix of old-school training and Instagram arrogance. He does not have a regular coach overseeing his training camps and progress. Coaches help bring fight management and Groves has developed that nicely in his last dozen fights, while Eubank Jr is his own coach, guiding hand and bulldozer.
It can lead to Eubank Jr single-mindedly destroying opponents, like he did to Avni Yildirim in the quarter-finals last October, but can also cause the talented fighter to lose his bearings, like he did against Saunders. Eubank Jr let that fight slip away from him and did not kick into gear until Saunders had opened an insurmountable points lead. One cannot help but wonder how the word of a coach in his ear would have affected that bout.
Groves seems to have all the tools in his favour, and yet the bookies have installed Eubank Jr as the favourite. His speed and tenacity are expected to have a huge bearing on Groves who has a history of slowing down, despite the fact Eubank Jr has only twice been 12 rounds (Groves has been the distance six times).
Eubank Jr has a noticeable style of incredible bursts of painful punches, but as Groves has said, the fury often leaves a target and Groves will be confident he can hurt his opponent when the blinkers come on.
LAST FIGHT
Eubank Jr vs Avni Yildirim, Oct, 2017
The knockout victory that set the tournament alight and announced Eubank Jr as a serious contender. The Brit smashed Yildirim with pure force in a relentless three-round blur of speed and power.
It also put to bed the theory that Eubank Jr has no power in his hands.
Eubank's style was impetuous, his defence impregnable, he was ferocious…god damn ferocious!!! #EubankJrYildirimpic.twitter.com/yDa5A9Wz1v

— Michael Morgan (@mikewhoatv) October 7, 2017
Groves vs Jamie Cox – Oct, 2017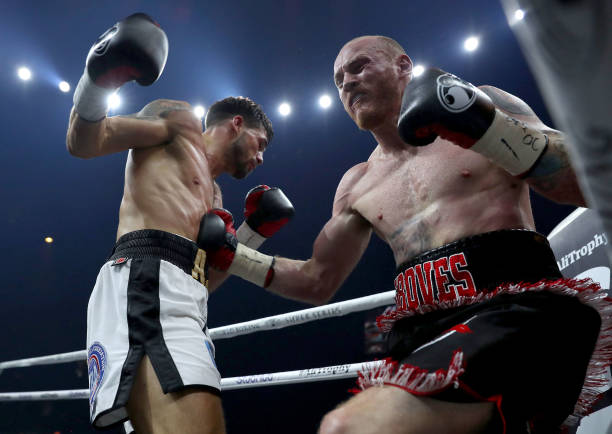 After Eubank Jr had starched Yildirim, Groves produced a fourth-round knockout in his quarter-final against Jamie Cox.
It was a performance on the opposite end of the knockout spectrum, with Groves using intelligent and well-placed body shots to stop Cox.
Groves was in full control during the contest and eased himself into an all-British blockbuster with Eubank Jr.
METRO.CO.UK PREDICTION…
Fans, fighters and pundits seem almost completely split on this one. Eubank Jr is desperate for this to be his coming out fight, the victory over an elite opponent he needs to legitimize his progress, while Groves is vastly more experienced and could easily school his rival.
It is hard to envision Eubank Jr stopping Groves early, this seems to have the making of a 12-round battle that could see a late stoppage from either man. Should Eubank's speed and workrate hold up and he get his fight management under control, he could simply be too hot for Groves to handle.
VOTE…
[contf] [contfnew]
[contfnewc] [contfnewc]