UK News
'I'm going to die': Stabbed father dies after being put on hold by 999
A dying father-of-two rang the emergency 999 number after being viciously stabbed, only to be put on hold and forced to listen to an automated message. "I'm going to die," Liverpool Crown Court heard the man saying.
Paul Millea, 36, called the emergency services after being stabbed on June 17, but the court heard that because of the high volume of calls, he was put on hold. Millea was allegedly assaulted by Philip Daniels, 26, who is understood to have attacked the man on suspicion he was having an affair with his girlfriend.
Read more
Nigel Power QC, prosecuting, told the court Millea logged the first call at 11:10 pm, and said: "'I've been stabbed in the chest… He stabbed me for nothing… I'm going to die."
Power continued, "The operator says hold the line and then Mr Millea says he stabbed me like a nutter, I'm dying."
"We only hear, sadly, a recorded voice saying that the call was in a queue because there were a high number of calls… Mr Millea obviously knew that he was dying because he said 'I'm dying, I'm going to die, I can't stay here? I'm dying."
Emergency services arrived only 40 minutes later, by which time several people had tried to help the victim.
Millea was brought to hospital, where he died of his wounds shortly before 1:30am.
Daniels denies the charges of murder or manslaughter, but has admitted to stabbing Millea, although, only in self-defense and with a pair of scissors.
Daniels looked "visibly distressed" when he arrived at his mother's house in Stockbridge Village at 1:30am, the QC said.
Read more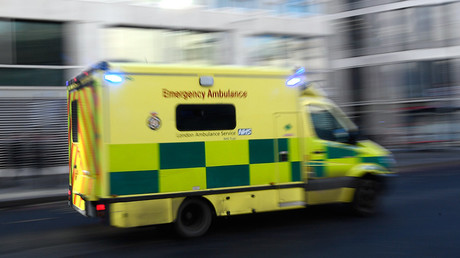 "He was shaking, crying and repeatedly saying that he was sorry."
"He said that he thought Kayleigh [his girlfriend] was having an affair with someone, and that when that man knocked on the door he stabbed him," Power said.
The accused also reportedly asked his mother to wash his clothes, which she "wisely" declined to do, Power said.
However, on the morning after the incident, Daniels' sister Kimberley took him to the barbers to shave off his "distinctive" hair.
Power questioned why he would do this if not to evade being "apprehended for murder."
Kimberley, who also took away her brother's clothes, was arrested by police and later pleaded guilty to the offence of assisting an offender and helping them dispose of evidence
The trial continues.
[contf] [contfnew]
[contfnewc] [contfnewc]