Sports
'I'm not going to stop until I prove my innocence', Shayna Jack declares
Besieged swimmer Shayna Jack emerged after a marathon meeting with anti-doping officials to declare that she would not let go of her swimming dream despite the mountain she must climb to prove her innocence.
The 20-year-old could face as long as four years out of the pool if she fails to convince the Australian Sports Anti-Doping Authority (ASADA) there were mitigating circumstances surrounding the Ligandrol found in her system during an out-of-competition test in Cairns last month.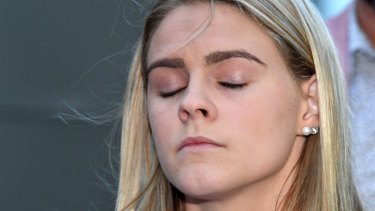 She was sent home from a Dolphins training camp in Japan just a week before the FINA World Championships in Korea, then was dealt the hammer blow two days before the meet when her "B" sample confirmed the results.
Ligandrol is a non-steroidal anabolic agent popular among the body building community. It is thought to help with building muscle and stripping fat and has been the culprit in a growing number of doping positives over the past five years.
Advertisement
In an earlier statement on social media, Jack said she had no idea how the substance came to be in her system and steadfastly denied any wrongdoing.
She faced the media for the first time on Friday to double down on that stance in the wake of a meeting in Brisbane that lasted almost five hours.
Flanked by her mother Pauline and lawyer Paul Horvath, Jack said she was happy to take the first step in what promises to be a lengthy process likely to last months.
She said swimming Australia had been "nothing but supportive".
"It's been a really long and emotional day but we have started the process, which is really great," Jack said.
"I'm really happy with how everything is going and I'm not going to stop until I prove my innocence and fight to get myself back in the pool, because that's my dream and I'm never going to let that go."
When asked how the substance may have found its way into her system, Jack replied: "It's still an ongoing investigation so we can't clear that with anyone at the moment. We're looking into it but we're not going to leave any stone unturned."
Horvath, a Melbourne lawyer and one of the country's foremost anti-doping minds, said he would use every avenue possible to try and clear Jack's name in what will be a fight to potentially save her career.
"We will leave no stone unturned in preparing her defence to this case. Shayna has handled herself very well today through a long and challenging process, especially for a 20-year-old," Horvath said.
"She's been very honest to date, which she doesn't have to be."