Sports
India and Sri Lanka cricketers battle on in Delhi despite hazardous thick smog
Cricketers playing in a test match between India and Sri Lanka were forced to wear anti-pollution masks to finish Sunday's match in New Delhi, which had to be halted and completed on Monday, amid increased concerns over air impurity in the city.
Read more
The second day of the third test match on Sunday was stopped three times due to thick smog in Delhi's Feroz Shah Kotla Stadium, which made play impossible. Indian doctors called on the International Cricket Council (ICC) to cancel the match, but their recommendations were ignored and play resumed for the third day on Monday, despite players vomiting and struggling to breathe.
After Sunday's game, Sri Lankan coach Nic Pothas complained that some of his team members had been badly affected by the extreme and unusual weather conditions.
"The match referee was in our change room and the doctors, and Suranga (Lakmal), poor guy, was just continuously vomiting," Pothas said. "Doctors were in there as well. Dhananjaya de Silva was vomiting. It was tough."
However India's coach Bharat Arunon said his players were not too bothered by the weather, telling reporters that the smog didn't prevent their captain Virat Kohli, who didn't wear a mask, from striking a career-best record during the two games.
"He didn't need a mask. We are focused on what we need to do. The conditions are the same for both the teams… I don't think we need to be thinking about what the opposition does. It's their problem to keep their bowlers fit," he noted.
The Indian Medical Association (IMA) condemned the situation surrounding the cricket match, stating that competing in such conditions causes irreparable damage to an athlete's health. "This match should not have taken place in the first place. It is time the ICC (International Cricket Council) comes up with a policy on pollution," said IMA president K. K. Aggarwal.
"You have fast bowlers, batsmen and fielders out there exposed to these very harmful pollutants over five days at a stretch. It takes a serious toll on your health in the long run," he added.
Read more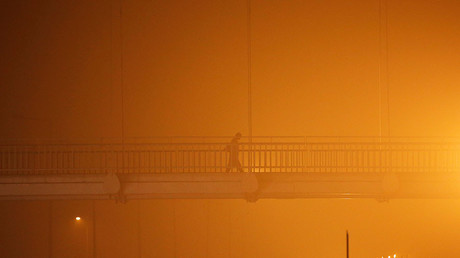 In the winter season, increased fuel use for heating and burning crop residue, together with a high humidity level, gives New Delhi hazardous levels of air pollution, often being touted as the 'most polluted city' in the world.
Around this time of the year in India, the concentration of air pollutants, known as PM10, is more than 100 times the safe level prescribed by the World Health Organization (WHO).
The PM10 concentration on Monday reached 448, compared to a maximum level of 25 that is deemed safe by the WHO during a 24-hour period. These air pollutants can lodge in the lungs and cause various lung diseases, including bronchitis and even cancer.
Last month, more than 30,000 runners participated in the Delhi half-marathon, staged just days after heavy smog enveloped the city. Indian doctors attempted to cancel the run with a court order but the race went ahead despite runners complaining of burning eyes and sore throats.
[contf] [contfnew]
[contfnewc] [contfnewc]