UK News
'Rat bomb' designed for British spies to fight Nazis up for auction
In the market for an exploding French rat? Probably not, but why miss this opportunity? Especially if you have a spare £1,500 ($2,020) lying around to spend on utterly random wartime taxidermy.
Found in the back of a Lyon police station, this incredibly rare object is a fine example of some of the more bizarre and creative methods employed for hampering the Nazis.
The dummy rat, up for auction at Bonhams New York, carries the French police identification label 'surmulot ou rat d'egouts Mus decumanus. Pall.Lyon I 1942.' The ink label on the base is dated 1942 and has a post-war 1940s tie-on label, also written in French; stating that the "rat is of the SOE" – the Special Operations Executive.
The rat bomb was once owned by Maurice Ledain, sometimes known by the pseudonym Jack Dickens. The French Special Operations Executive fled from Nazi-occupied France in 1940, coming to Britain where he joined the Allied Commando 10. He was dropped behind enemy lines three times.
Read more
One of his missions may have included the directive to sprinkle these 'rat bombs' in German factories. The simple, yet effective concept was that the seemingly innocent dead rat would be shoveled up and chucked into furnaces of enemy factories. The explosive-laden rodent would then combust, destroying heating systems and causing localized mayhem for the Nazis.
Bonhams expert on conflict artifacts, Tom Lamb, told RT that the ingenious rat bomb idea was commissioned by Winston Churchill himself. "They were put in place by Churchill to create havoc in Nazi-occupied Europe," he said.
British special ops built the exploding vermin in a laboratory in Stevenage Herts, where SOE engineers posed as London University scientists, ordering 100 rats for dissection. Half of the rats, however, never fulfilled their intended fiery end.
"They parachuted them in… they got to France and were captured by German authorities," Lamb said. The Germans then spent months ferreting through piles of dead rats in boiler rooms just in case one might blow up. What a satisfying image that conjures.
"This specimen was placed in a Lyon police station and remained in the back of a cupboard for a very long time. At some point they cleared it out and a collector in the area picked it up," Lamb added.
This particular rat was unearthed in the 90s and bought by a French collector. The explosive masquerading as a rodent is so rare, the Bonhams expert has only ever seen one other in existence.
"I couldn't find another one," he said. "There were 100 built but 50 were plucked by Nazi authorities."
Read more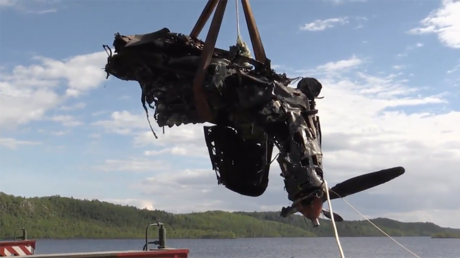 The rat itself is made of real rat hide and is stuffed with a fuse. The hair has almost eroded completely due to age. The taxidermied vermin is mounted on a wooden platform, so you can have it on display in your home to impress your friends at parties. Won't they be jealous.
If a rat-themed weapon isn't to your taste, there is also a garrotte in a little coffin case up for sale. Lamb says the strangulation strings were left on the doorsteps of those who could have been tempted to play turncoat with the German occupiers. Much more subtle than finding a severed horse head in your bed, but no doubt the little coffin made the message plain.
For buyers looking for a more 007-inspired weapon, an Eversharp fountain pen from 1940 is also for sale. Impress your friends or stab your enemies with this serious stylo, used by American OSS assassins.
Valued at just under £4,000 ($5,400), the average-looking fountain pen has 'eversharp' emblazoned on the nib and brass banding. Hiding inside this seemingly innocuous pen is a nasty metal spike with blood groove, used to stab delicate areas, such as the neck, lower back or heart. In the right hands, this pen was a deadly concealed weapon.
The items go up for auction on December 6.
[contf]
[contfnew]

[contfnewc]
[contfnewc]Original Article