Turkish President Recep Tayyip Erdogan said Tuesday that a reported plan for such recognition, in whole or in part, would be a "red line for Turkey" and could lead to Ankara cutting diplomatic ties with Israel. "As the temporary president of the Islamic Cooperation Organization, we will follow this issue very closely," Erdogan said at his party's weekly meeting in the Turkish capital. In a series of tweets earlier on Tuesday, Turkish presidential spokesman Ibrahim Kalin described the reported plan as "a fatal mistake … such a move would undermine all peace efforts and trigger new tensions and conflicts." Three other major US allies have registered their concerns this week about the reported plans of the Trump Administration to recognize Jerusalem as the Israeli capital. The announcement, expected this week, would fulfill a Trump campaign promise — one made by previous US Presidents and then set aside due to regional concerns and Jerusalem's contested status between Israelis and Palestinians, both of which claim the holy city as their capital. The resistance from allies is reportedly leading to debate within the White House over how to balance the move with the recognition of Palestinian claims to Jerusalem and may delay an announcement, according to sources with knowledge of the situation.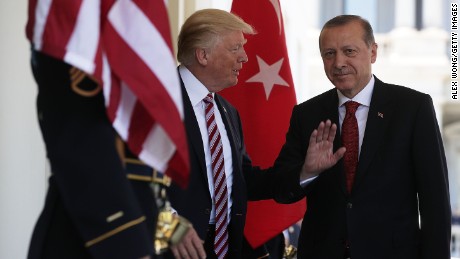 "Any announcement prior to a final settlement would have a detrimental impact on the peace process and would heighten tensions in the region," Prince Khalid bin Salman, Saudi Arabia's ambassador to the US, said in a statement to CNN on Monday. In a phone call with Trump on Monday, French President Emmanuel Macron expressed similar thoughts, according to a readout provided by the French Foreign Ministry. Macron reaffirmed the long-held international position that the status of Jerusalem should be resolved through peace negotiations between Israelis and Palestinians, "and particularly those relating to the establishment of two states, Israel and Palestine, living side by side in peace and security with Jerusalem as their capital," the statement said.Jordanian Foreign Minister Ayman Safadi also warned of "dangerous repercussions" should the move materialize.
'Not a matter of if but a matter of when'
White House deputy press secretary Hogan Gidley, briefing reporters aboard Air Force One on Monday, addressed the question of whether Trump would act to move the US Embassy from Tel Aviv to Jerusalem but didn't take up the question of recognition.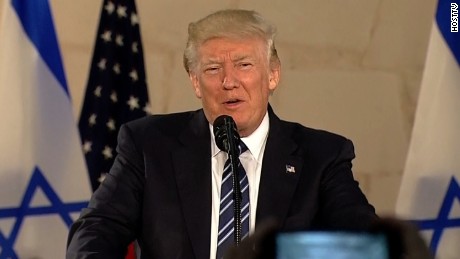 Under the Jerusalem Embassy Act of 1995, the embassy must be moved to Jerusalem or the State Department would face the penalty of losing half its appropriated funds for the acquisition and maintenance of buildings abroad. Every six months, however, presidents can sign a waiver to avoid these penalties on national security grounds."The President has been clear on this issue from the get-go that it's not a matter of if but a matter of when. No action, though, will be taken on the waiver today. And we will declare a decision on the waiver in the coming days," Gidley said.The Saudi ambassador added that his country was working with the Trump administration on a possible Mideast peace settlement and remains committed to a solution "based on the 1967 borders including east Jerusalem as the capital of a Palestinian state. We are working with the President's peace negotiation team to achieve a fair and just settlement."
CNN's Michelle Kosinski and Noah Gray contributed to this report.
Original Article
[contf]
[contfnew]

[contfnewc]
[contfnewc]